If you have a Jacuzzi® in your house, you already know how beneficial it can be to relax and de-stress after a hard day. However, if you are having problems with your Jacuzzi® , it can quickly become a source of frustration. We will discuss some of the most common problems people experience with their Jacuzzis® and provide solutions for how to fix them.
Do you need Jacuzzi® troubleshooting?
Action Spa Repair is here to help. We're the most trusted name in spa repair, and we can solve any problem you're having with your Jacuzzi® .
We realize the importance of having a working Jacuzzi® , which is why we are always available to tackle any repairs as soon as we are called. To ensure you stay comfortable, we also offer same-day service and always use the highest quality parts and equipment. You will be 100% satisfied with our work.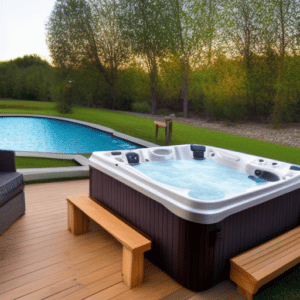 Contact us today to start enjoying your Jacuzzi® again!
Action Spa Repair Services: All Major Brands
No matter what brand of Jacuzzi® you have, we can fix it. We have experience repairing all major brands, including:
Jacuzzi®
Sundance Spas®
Bullfrog Spas
Caldera Spas
And more!
We can help you with all of your Jacuzzi® repairs, troubleshooting, and maintenance requirements. Give us a call right away, and we'll send one of our experienced and knowledgeable technicians to evaluate your Jacuzzi® . We'll identify the issue and provide you with a free repair quote.
Here are some common hot tub problems
Jacuzzi® Cover Issues
The cover is one of the most common problems customers experience with their Jacuzzi® . The covers are necessary for keeping the heat in the tub and dirt out, but they may be difficult to lift and occasionally break. We can help you repair or replace your hot tub cover if it is broken.
Action Spa Repair offers a wide variety of covers to choose from so that you can find one that fits your needs. We also offer a cover lifter installation service so that you can easily remove and replace your cover without any hassle.
2. Jacuzzi® Error Codes
Error codes for hot tubs can be confusing. However, they aid in pointing up an issue. Additionally, each manufacturer of hot tubs typically includes codes and related repairs in their owner's manual. If you want help with any of the error codes displayed, you can contact Action Spa Repair.
3. Faulty Jacuzzi® Heater Element
What is enjoyable in a Jacuzzi® without hot water? Saltwater circulation or scale buildup can cause your Jacuzzi® heating element to malfunction. Also, turning on the heater when there's no water around it can burn out. Scale buildup on your Jacuzzi's® heater element's exterior will lower the steamy hot tub output and eventually put the element at risk of failing the circulation pump.
Whatever the case, Action Spa Repair's team of innovative technicians will get your Jacuzzi® heating properly again.
4. Malfunctioning Control Panel
Malfunctioning control panels are another common issue people have with their Jacuzzis® . The control panel allows you to turn on the jets, adjust the temperature, and operate all of the other functions. It might be really annoying if your control panel is not operating properly.
Action Spa Repair offers a wide variety of replacement control panels to find one that fits your needs. We also offer a control panel installation service. Contact us today for assistance if you have other Jacuzzi® problems.
5. Malfunctioning Pump
If you have a malfunctioning pump, it can be very frustrating. Common factors that cause malfunctioning pumps are debris blockage and electrical faults. When a foreign body blocks the impeller(a component that helps to circulate water), the pump may stop working.
Also, large air bubbles within the plumbing may result in airlocks, which can also affect the pump,
6. Ground Fault Circuit Interrupter
A ground fault circuit interrupter (GFCI) breaker is a device that helps protect against electrical shocks while using your Jacuzzi® . If the GFCI detects an abnormality in the flow of electric current, it will trip and shut off the power to the device.
Typical causes of GCFI malfunctions include running the heater without enough water in the hot tub, obstructions, improper circulation, and chemical deposits. Sometimes, GFCIs can trip even when there is no danger of an electrical shock.
For safety reasons, issues with GFCI should neither be ignored nor overlooked. If your Jacuzzi® has been tripping off on its own, quickly call Action Spa Repair today to get it fixed.
7. Faulty Plumbing
It's critical to rectify any issues with your Jacuzzi's® plumbing system as soon as possible. This is because the water could easily get contaminated if there is a plumbing issue.
Leaks, clogs, and breakage are a few things that might go wrong with the plumbing system of your Jacuzzi® . If you encounter any of these issues, we advise contacting Action Spa Repair. Our team will respond swiftly to solve the problem.
8. Water Chemistry Problem
The water chemistry has to be correct to get the best experience with your Jacuzzi® . Smelly water, green water, musty water, and murky water are all symptoms of poor water chemistry.
It would be best to double-check the following for proper water chemistry maintenance.
Both of these are testable with test strips. Ideally, you should check them each time you use the Jacuzzi® .
Poor water maintenance can clog the filter, render the water acidic, and harm hot tub parts.
Some Benefits of Knowing the Common Problems with Jacuzzis® :
You can avoid them
You know what to do when they occur
You can fix many of them yourself
It can save you money in the long run
Now that you know some of the most common problems people have with Jacuzzis® , you can be better prepared if you encounter any of these issues. If you have any other questions or need assistance, don't hesitate to contact Action Spa Repair.
Why do people choose Action Spa Repair Company?
In the Jacuzzi® sector, Action Spa Repair is a well-known brand. We have been repairing Jacuzzis® for over 20 years.
We are committed to offering our clients high-quality repair and maintenance services. To save from frequent repairs, we only utilize the best components and materials.
Our technicians are extremely competent, innovative, and experienced, and we only utilize the best components and materials.
Action Spa Repair Company is a one-stop shop for your Jacuzzi® needs.
A Few Quick Tips to Maintain your Jacuzzi® :
Clean the filter regularly
Test the water chemistry and adjust as needed
Inspect the Jacuzzi® for leaks or cracks regularly
If you follow these simple tips, your Jacuzzi® should stay in good working condition for many years.
How often should I have my Jacuzzi® serviced?
We recommend having your Jacuzzi® serviced at least once a year. This will help to ensure that it is running properly and that any potential problems are caught early.
Final Thoughts
A Jacuzzi® is an excellent place to relax and spend quality time with family and friends. However, they, like anything else, require maintenance and care. Knowing the most common concerns people have with Jacuzzis® will help you be better prepared to tackle them if they happen.
If you ever need repairs, maintenance or answers, don't hesitate to contact Action Spa Repair. We are always delighted to help!
We are your one-stop shop for all your Jacuzzi® needs. Our goal is to ensure that your Jacuzzi® continues to function well for many years. We provide a wide selection of services and products. Get in touch with us to book a repair or learn more about our offerings.